The Booster is a 3-day-program starting with an intensive, small-group, hands-on training led by international experts to master the art of pitching, get the latest insights & trends for the XR contents, industry and market, be at the forefront of the XR technologies and learn how to develop and finance a XR project.
The Booster also offers its participants the opportunity to pitch their project to a jury of potential partners, co-producers, distributors and film funds, network in many socials, create new business opportunities by participating to one-to-one meetings and compete for the Booster Award, which will be given to the winner during the Awards Ceremony of Stereopsia held on 19 October 2022 at The Plaza Hotel, Brussels.
Training leads are Sylvain Grain (Stereopsia) and Astrid Kahmke (European Creators' Lab).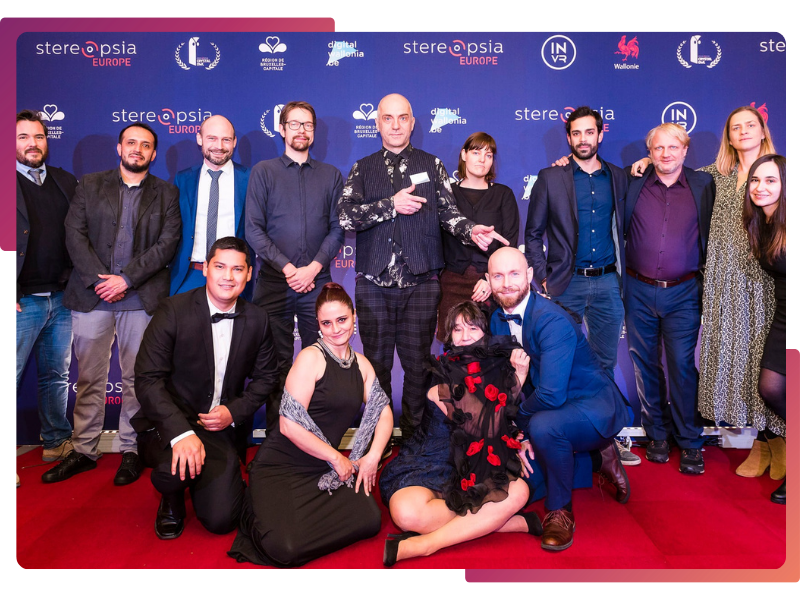 Anti-Muse | Belgium
Baloji Tshiani, Joyce Palmers
AMOK
Chocolate Milk | USA, Serbia
Sonja Bozic, Jonathan Weiner
Elastic Media
Dans Drauganna | Germany
Maurane Cugny, Nicole Popst
Reynard Films
Eyes Of Shame | Lithuania
Tomas Tamosaitis, Laura Almantaite
Joni Art
Jacob's Journey | Poland, Canada
Joanne Popinska, Tom Hall
Infinite Frame Media
Kvöldvaka | Denmark
Dane Christensen, Carol Dalrymple
Dansker Digital
Lost Forms | Germany
Viviana Hochstätter, Mika Johnson
expanding focus GmbH
Salvation of Erotic Waves | Belgium
Lucas DeWulf, Wim Forceville
Nearly Norman
The MetaMovie Presents: Alien Rescue | USA
Jason Moore
The MetaMovie
Us Extended | Slovakia
Michaela Pňaček, Anke Petersen
JYOTI FILM
ONLINE
–10 – 14 October 2022: Online masterclasses, and private sessions of mentoring.
The detailed program will be available here over the course of the summer. Stay tuned!

OFFLINE
–Monday, 17 Oct: Travel day to Brussels, Belgium – Visit exhibition area and the XR Showcase, and attend conferences. IN THE EVENINGG: Networking drinks in the exhibition area 5PM-8PM.
–Tuesday, 18 Oct: Onboarding, tech check, pitch presentations, B2B meetings. IN THE EVENING:  Networking drinks in the exhibition area 5PM-8PM.
–Wednesday, 19 Oct:  Your time to enjoy the conferences, the festival and organize meetings for yourself. IN THE EVENING: Award Gala at 7PM-11PM (Dress code: formal attire).