SUBMISSION DEADLINE 31 AUGUST 2022
Call for Scientific presentations
ACADEMIC & RESEARCH TRACK
The call asks for presentations -instead of scientific papers, which demonstrate recent advances in applied research covering one of the following topics:
–Creation of depth and volume for images, video and sound
–Advances in interactive sensors end rendering devices for virtual reality (VR), augmented reality (AR), mixed reality (MR) and extended reality (XR).
–Creation and capture of immersive content
–Novel 3D rendering techniques for ultra-realistic content (including holography) and/or real-time rendering
–Multi-camera systems and light field compression.
–Product presentations will be excluded.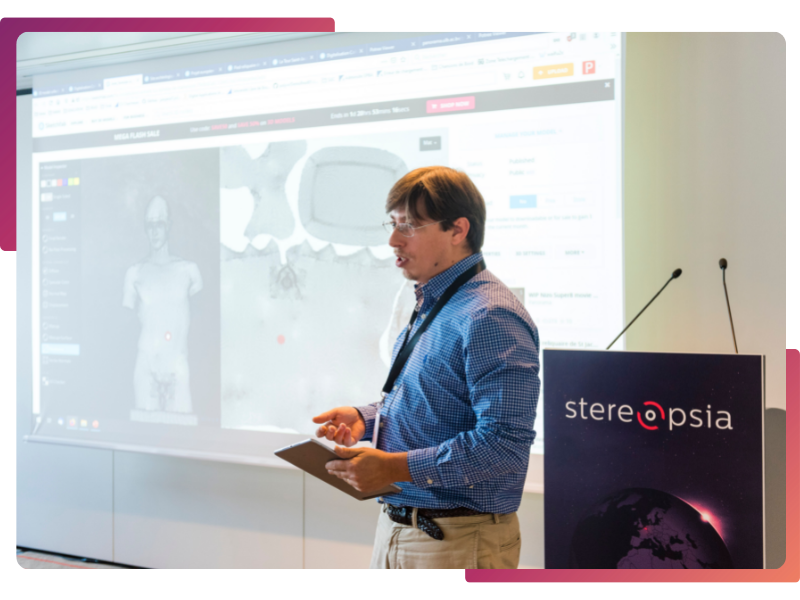 We ask for a 300-word abstract, which describes the topic of your presentation including the novelty and innovation. All the submitted proposals for presentations will be evaluated by an expert committee. After careful evaluation, 7 presentations will be selected.
The authors of the accepted presentations receive a free pass for Stereopsia 2022.
After the event, the presentations have to be made available for all the participants.
Prof. Rigmor Baraas, Director of National Centre for Optics, Vision and Eye Care, University of South-Eastern Norway
Prof. Caroline Cao, Chair of Industry of the future, Computer Sciences Department, IMT Atlantique, France
Dr. Antonin Gilles, Researcher and Deputy Lab Manager, IRT b-com, France
Prof. Adrian Munteanu, ETRO, Vrije Universiteit Brussel, Belgium
Dr. Omar A. Niamut, Director of Science, TNO ICT, The Netherlands
Jan Pflüger, Consultant, advisXR, Germany
Dr. Oliver Schreer, Associate Professor TU Berlin, Head of Research Group at Fraunhofer Heinrich Hertz Institute, Germany
Dr. Athanasia Symeonidou, XR Researcher & Developer @ HIT LAB, Hogeschool West-Vlaanderen, Belgium
Dr ir Isabel Van De Keere, Founder & CEO – Immersive Rehab Ltd, UK
Oliver SCHREER
oliver.schreer@hhi.fraunhofer.de
David GROGNA
david@stereospia.brussels