BY INVITATION OR PRE-BOOKING ONLY
The Awards Gala of Stereopsia is the pinnacle of the event. The prestigious Crystal Owl® Awards are handed out to the best XR content and XR projects in development during the exclusive on-invitation-only black-tie, 3-course dinner at the Hotel le Plaza on Wednesday evening, 19 October.
The occasion for you to pull out your favorite evening outfit (formal attire mandatory) and end Stereopsia EUROPE in style, surrounded by the crème de la crème of XR producers, content creators…
This event is by invitation or pre-booking only.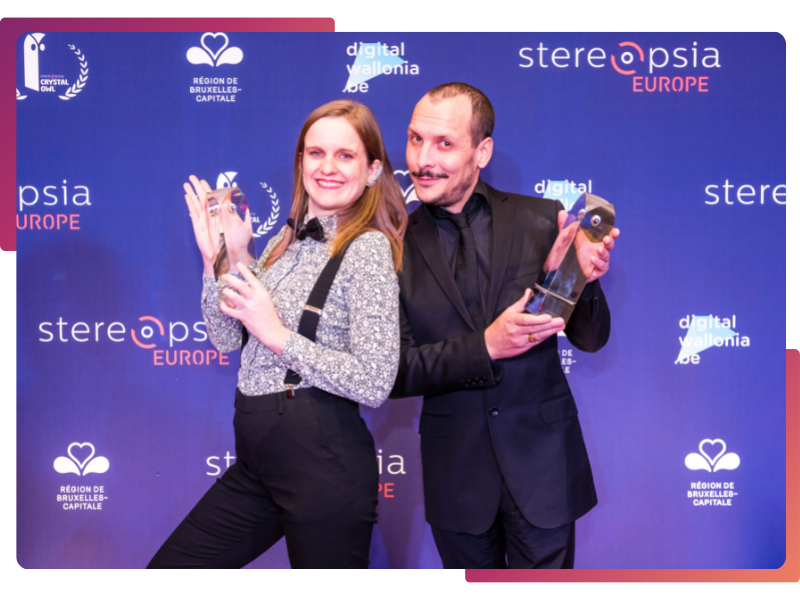 The Plaza Hotel | Adolphe Maxlaan 118/126 – 1000 Brussels.
CRYSTAL OWL AWARD WINNERS:

Best AR Experience  –  When She Gets Out
Best Live Entertainment  –  Welcome to the Other Side
Best XR Creative Concept  –  Marco & Polo Go Round
Best Heritage Experience  –  Kusunda
Best 360 Video  –  Genesis
Best XR Documentary  –  Surviving 9/11
Best Educative Experience  –  Lady Sapiens, the VR experience
Best Narrative Experience  –  Madrid Noir
Best VR Experience  –  Le Bal de Paris de Blanca Li

OUR OTHER WINNERS:
The Booster Awards
    1/ Tangible Utopias (Andra Bria, Ioana Mischie)
    2/ The Oddshows (Iwan Peter Scheer, Stéphane Grade, Fabrice Gérard)
Booster-Heritage Award  –  The Stones Tell Their Tales (Giulia LUCCI, Réseau Art Nouveau – Didlel LAVOIE, CADABRA – Etienne PAQETTE, CADABRA – Nicolas d'ALESSANDRO & Marco PEZZI, HOVERTONE)
EuroFest XR – Best 2021 Content  –  The Smallest of Worlds
EuroFest XR – Most Promising Creator  –  Gaëlle Mourre