Submission deadline: 28 AUGUST 2023
CALL FOR XR PROJECTS
IN DEVELOPMENT
The Booster is an intensive training led by Sylvain Grain to improve pitch and presentation, get the latest insights & trends for XR contents, and learn how to develop and finance XR projects.
Through a dynamic combination of group training, individual coaching, and immersive pitching sessions in front of potential investors or co-producers, The Booster provides the perfect launchpad for your project's success. Seize this transformative experience to refine your vision, enhance your skills, and attract crucial support for your XR venture. Don't miss this chance to supercharge your XR project's progress. Submit your work to The Booster today and embark on an exhilarating adventure that propels your innovation to greater horizons.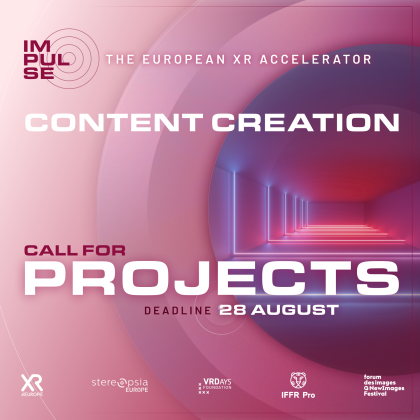 As a part of the expansive IMPULSE program, The Booster offers an unparalleled opportunity for your project to gain momentum and reach new heights.
Before Stereopsia
3 online masterclasses: 9-11-13/10
During Stereopsia
19/10: Exchange + STEREOPSIA visit for Content Creators
19/10: Networking Night + Pechakucha Pitching Night
Takeaways: Coaching & mentoring, perfect project holder's pitch, learn how to make an application, where to find grants & funds, what's the appropriate linguo, and what are the available funding mechanisms.
Call for projects open: from May to 28 August 2023
Acceptance confirmation: 9 September 2022
Online masterclasses: 10-14 October 2022
Stereopsia EUROPE (in Brussels): 17-19 October 2022