As part of the program, all project holders will have the opportunity to pitch their XR projects on the grand stage of Stereopsia in front of all participants. This high-profile pitching session provides a unique chance to captivate potential investors and co-producers, opening doors to critical collaborations.
The IMPULSE | Content and the IMPULSE | Entrepreneurship participants will step onto the stage, poised to deliver a pitch that encapsulates the very essence of their vision, their relentless dedication, and the transformative potential of their projects. This stage, an arena for their ideas to resonate, captivate, and stand tall in the realm of cutting-edge innovation.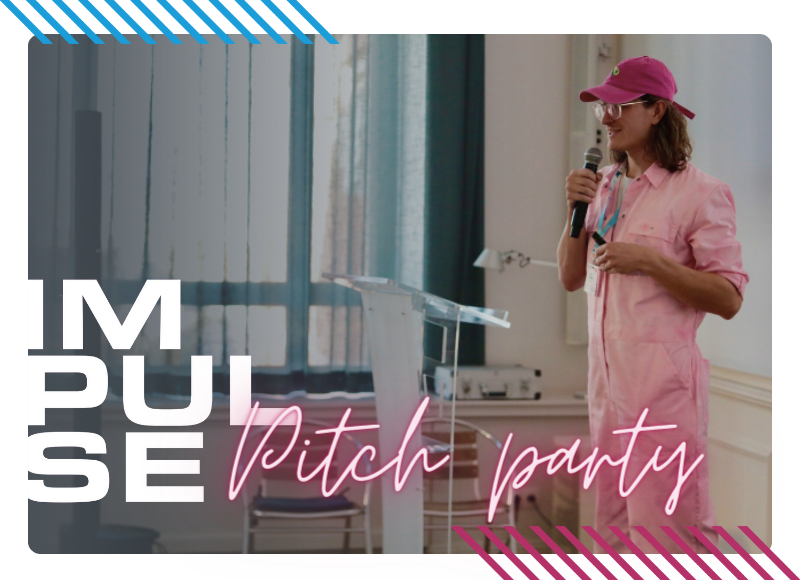 5 PM – 6.15 PM : Pitching of 13 entrepreneurs and start-ups:
Addmire,  Nathan Puozzo
AnomieXR,  Nina Salomons
CityDrops,  Mike van der Noordt
Dimensify,  Khushbu Verma
GN3RA,  Lili Eva Bartha
MagicBeans,  Gareth Llewellyn
Moverse, Argyris Chatzitofis
Novobeing,  Dzmitry Sorkin
Pixel Thinkers,  David Bennett
Remotevents,  Stefan Eder
The MetaMovie,  Jason Moore
Visuamed,  Helena Ortiz Gil
VR Builder,  David Lähner
6:20 PM – 7.00 PM : Pitching of 7 narrative projects:
Lumen, Maria Burgués (Spain), Eric Sant (Spain)
Kalunga, Susanna Duellmann (Germany), Maria Trindade (Brazil), Dan Franke (Germany)
The Towers of February – VR, Philipp Wenning (Germany)
Midsummer Night's X, Elena Lyubarskaya (France), David Steiner (France)
Nordic Glaciers- Frozen in Time, Martin & Fredrik Edström (Sweden)
Your Dream, Darius Vizbaras (Lithuania), Simas Chomentauskas (Lithuania)
DESAPARECIDXS, Alexandra Yepes (Germany)
The Pitch Party will be followed by a festive presentation of the XR in Chile, then the Networking mixer (free drinks) for all Pass holders.
IMPULSE | ENTREPRENEURSHIP
CityDrops,  Mike van der Noordt
GN3RA,  Lili Eva Bartha
IMPULSE | CONTENT 
Lumen, Maria Burgués (Spain), Eric Sant (Spain)
Kalunga, Susanna Duellmann (Germany), Maria Trindade (Brazil), Dan Franke (Germany)
Midsummer Night's X, Elena Lyubarskaya (France), David Steiner (France)
Nordic Glaciers- Frozen in Time, Martin & Fredrik Edström (Sweden)